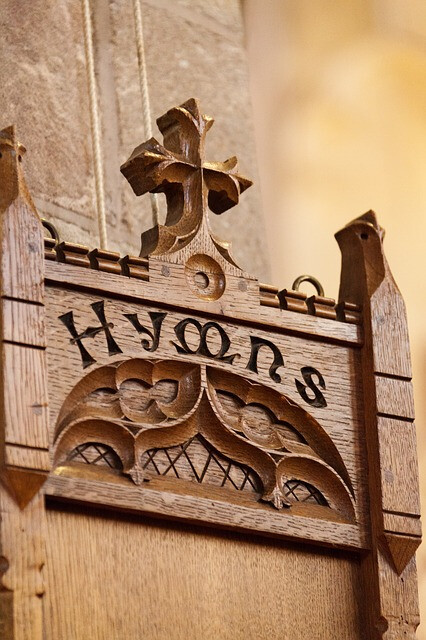 Prayer is notoriously simple and difficult at the same time. It is simple because we are speaking with and to God the Father (Matt. 6:9). And when we find ourselves in painful circumstances, it seems natural to turn to heaven for help. Suffering can bring clarity to our need of the aid of our Creator and give us words to speak. "Ouch, this hurts! Make it stop!" or "How long, O Lord?" (Psalm 13:1).
However prayer is often difficult, especially when we are comfortable. It becomes a neglected discipline. We think we are better than we are. Success causes us to lose sight of our selfishness. Spiritual conversation with our Heavenly Father dries up. Or we pray like the Pharisese, "Thank God I'm not like that guy!"
Thus, what we sing matters! Hymns are often written as both praise and prayer in imitation of the Psalms.
And like the Psalms good music will confront you with the reality of being a finite and frail human being who lives in "my Father's World." Our Father is the infinite and holy God. "O let me ne'er forget that though the wrong seems oft so strong God is the ruler yet" (Maltbie Babcock, "This is My Father's World). Like the Psalms, quality spiritual songs call us to believe in God's word, God's grace and God's presence and they bring our emotions along for the ride.
One of my newfound favorite hymn writers is William Cowper (pronounced Cooper). He was an 18th century hymn-writer and poet who was good friends with his pastor, John Newton (the author of Amazing Grace). Cowper was well acquainted with his own weakness, having struggled with depression and despair nearly all his life. In the heart of this song writer was both the insanity of unbelief and a fragile faith in the mercy of Jesus Christ. He also had an imaginative vocabulary to describe what it is like to be trapped in the depths and lead us to faith and wonder (John Piper, The Hidden Smile of God, 84). This is where he helps people like us pray through song:
Listen to the chorus of his song, "Heal us, Emmanuel." We will be singing it this week.
Heal us, Emmanuel, here we are
We long to feel Thy touch
Deep wounded souls to Thee we fly
O Savior hear our cry
It's a prayer for the Jesus in the gospels to work the miracle of faith in us today. He is Emmanuel. He's near even if we can't feel it. Then Cowper call us to turn in faith to Jesus. Belief calls us to look outside of ourselves for rescue from sin, sickness and suffering. We are 'deep wounded souls.'
Our faith is feeble, we confess
We faintly trust Thy word
But will You pity us the less?
Be that far from You Lord!
Remember him who once applied
With trembling for relief
"Lord, I believe," with tears he cried
"O help my unbelief!"
The first two verse call us to meditate on Mark 9:24, of the father who cries out: "I believe, help my unbelief." It's a gloomy picture. We are barely hanging on. Yet he reminds us of mercy. Will you pity us any less? Come near, Emmanuel! The hymn gets us to cry out for help and to be confronted withe our frailty and weakness.
She, too, who touched you in the press
And healing virtue stole
Was answered, "Daughter, go in peace
Thy faith has made thee whole."
Like her, with hopes and fears we come
To touch You if we may
O send us not despairing home
Send none unhealed away
The last two verses call us to be as desperate as the woman who had been bleeding for twelve years who tried to sneak a miracle (Matthew 9:18-26). We come having run out of resources and full of hopes and fears. Jesus, don't ignore me! Make me whole too!
Cowper teaches us how to pray. Confess your need and unbelief. Then cry out for a compassionate rescue from Jesus, Emmanuel. He won't pity you any less.
Unbelief is a form of insanity which plagues us all. The old hymns have a poetic way of waking us up, to re-enchant our hearts with God's world and His grace. So when you find yourself lacking words, pray the Holy Spirit inspired songs in the Psalms. And do not ignore the power of singing prayers on Sunday morning with God's people. "Sometimes a light surprises the Christian while he sings. It is the Lord Who rises with healing in His wings" (Cowper, "Sometimes a Light Surprises."
**We are singing a new song this week, written by William Cowper: "Heal Us, Emmanuel"
Here's another link to a different meditation on this song, if you are interested: http://www.desiringgod.org/articles/a-song-for-the-weak-and-broken